Work exclusively on the newest Suzuki's equipped with the Denso RH850 Euro5 control unit.
Two new motorbike protocols are available for KESS3: work on new ECU's with different connection modes using just one tool.
First-ever remap on the Hamamatsu brand's fastest motorbikes: develop new business opportunities thanks to fast and safe OBD operation. Read and write in BENCH mode on the Mitsubishi 3P6-8591A-XX ECU's installed on the Yamaha FJR 1300. The last protocol is also available on K-TAG.
New control units supported:
Denso RH850
Mitsubishi 3P6-8591A-XX
Tune the parameters according to the functional logic of each individual ECU, optimizing performance and fuel consumption on a constantly updated fleet of vehicles. Create your best calibration thanks to Alientech's tools and discover the growing opportunities in the two-wheel business.
Denso RH850
SUZUKI
Virtual Reading VR, WR in OBD
| | | | |
| --- | --- | --- | --- |
| GSX-R | 1300 Hayabusa | Petrol | 140 Kw |
| GSX-R | 1000 | Petrol | 149 Kw |
| GSX-S | 1000 | Petrol | 112 Kw |
| GSX-S | 1000 | Petrol | 110 Kw |
Mitsubishi 3P6-8591A-XX
YAMAHA
RD, WR in Bench Mode
Choose the BIKE subscription for KESS3 and start working now!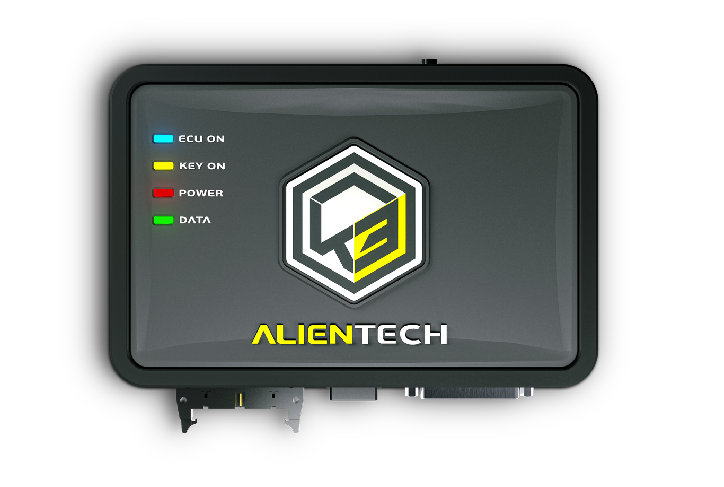 KESS3: the result of 30 years of experience
Quick updates, three different connection modes (OBD – BENCH – BOOT), ease of use and sturdiness for your garage.

All in a single tool designed to work in the present and amaze in the future thanks to the constant updating of functions and protocols to help you in your daily work.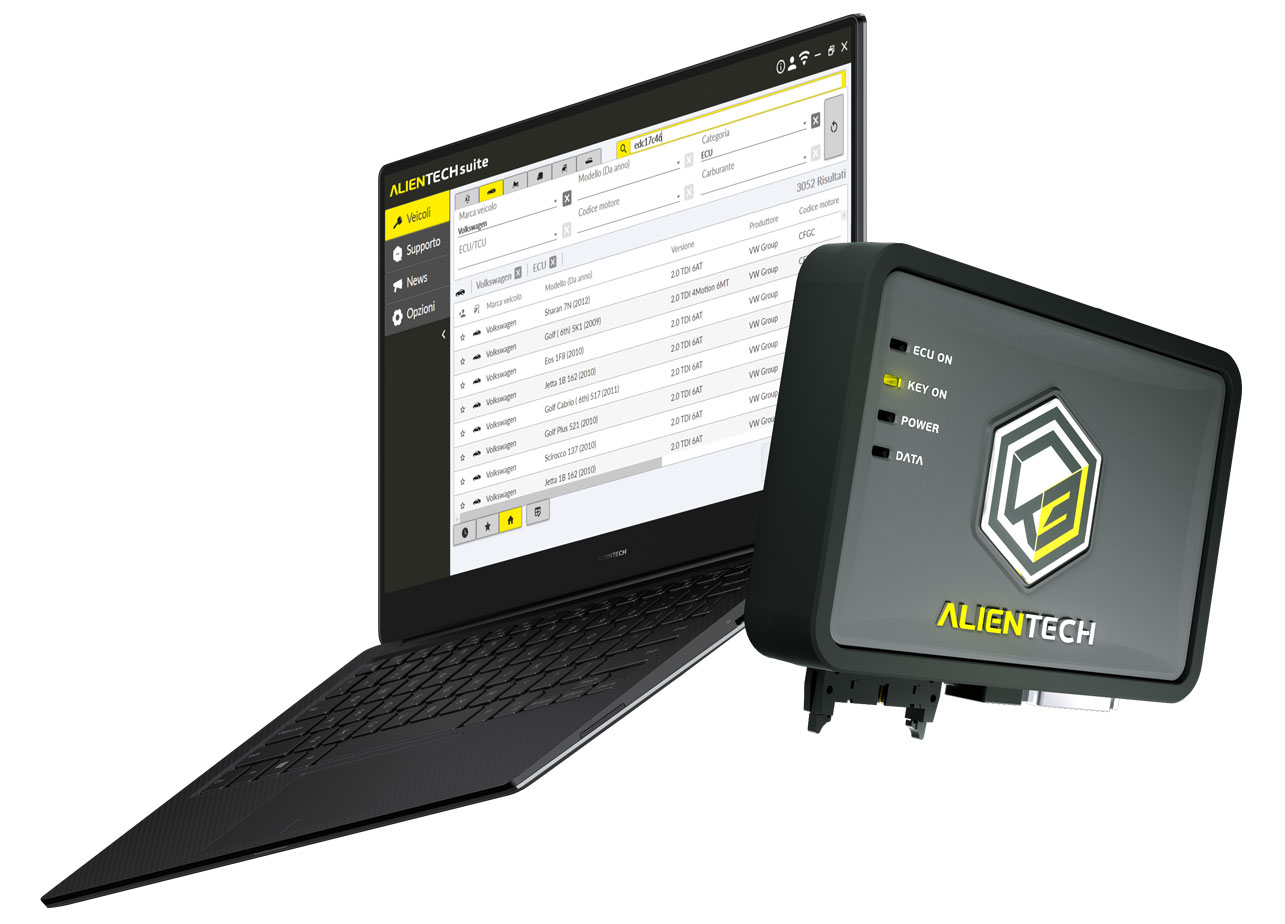 Design and performance, just a click!
Alientech Suite is your best friend in the calibration field.

Looks and function are designed to give you maximum responsiveness, contributing to a practical and intuitive working experience: everything you need is available and in your hands.
Target performance – Suzuki GSX-R 1000 MY2022
The forefather of supersport bikes is the "Gixxer". Ever since the first series, it has been able to impress with exhilarating performance and a true track-day handling, leaving all rivals behind. The exuberant yet refined character is still part of its DNA, especially when the going gets tough. Thanks to your know-how, and ECM Titanium calibration software, the new GSX-R still has a lot to offer.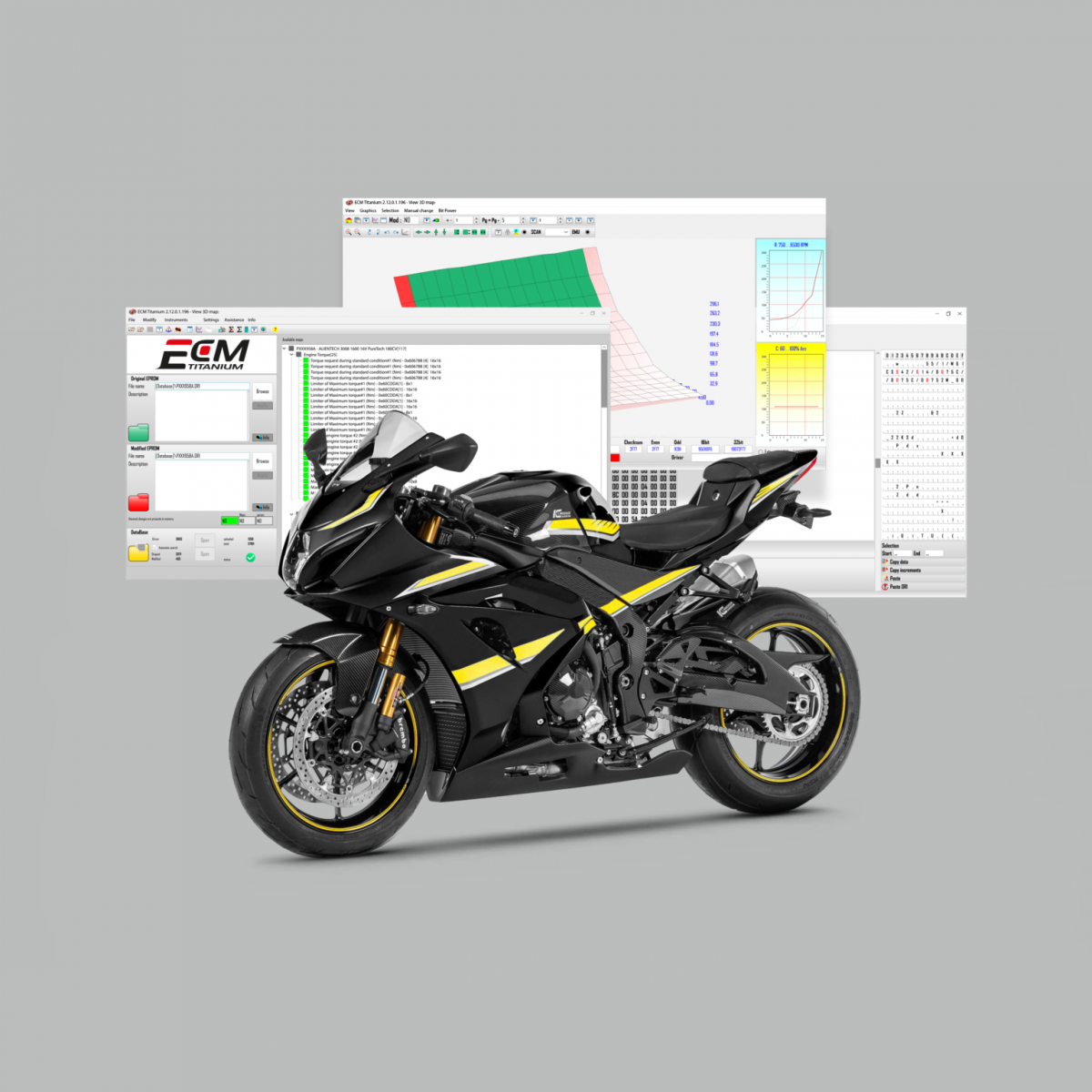 By working on the latest generation of Denso ECU's, combined with Euro5 technology, it will be possible to optimize the bike's power delivery and the absolute performance. As usual, to begin tuning on the latest motorbike ECU's it is necessary to adjust the air/fuel ratio, favoring a richer fuel mixture.

Once this has been fine-tuned, you can further enhance performance and your customer's happiness with targeted intervention on other, no less important engine management parameters: timing maps, throttle opening and rev limiters. With the simplicity of ECM Titanium, it's done!