Enhance performance on Kawasaki Jetski Ultra 310LX-S MY 2022 with KESS3
A new protocol is now available for reprogramming the ECU of one of the most exciting and high-performance jetskis on the market.
It works easily and reliably thanks to KESS3 BENCH mode on the Mitsubishi 21175-1731 control unit that manages the small 1.5l supercharged engine of the latest Kawasaki Jetski Ultra 310LX-S. Make this watercraft unique with bespoke customization.
New ECU supported:
Develop new business opportunities with a fast and reliable service focused on boosting performance. With KESS3, you will have a growing range of vehicles at your disposal, including these special vehicles for real enthusiasts.
Mitsubishi 21175-1731
KAWASAKI
RD, WR in Bench Mode
| | | | |
| --- | --- | --- | --- |
| Ultra 310LX-S Jetski | 1498cc | Petrol | 221 kW |
The protocol is also available on K-TAG.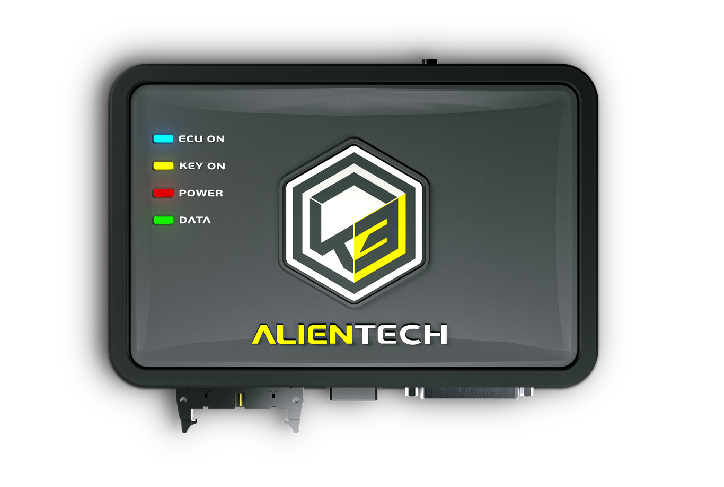 KESS3: the ideal mate for your work
Do you want to get the most out of KESS3?
Connect easily and never so quickly to the supported control units, work safely and autonomously on all types of vehicles and discover the technologies that drive the vehicles coming into your workshop.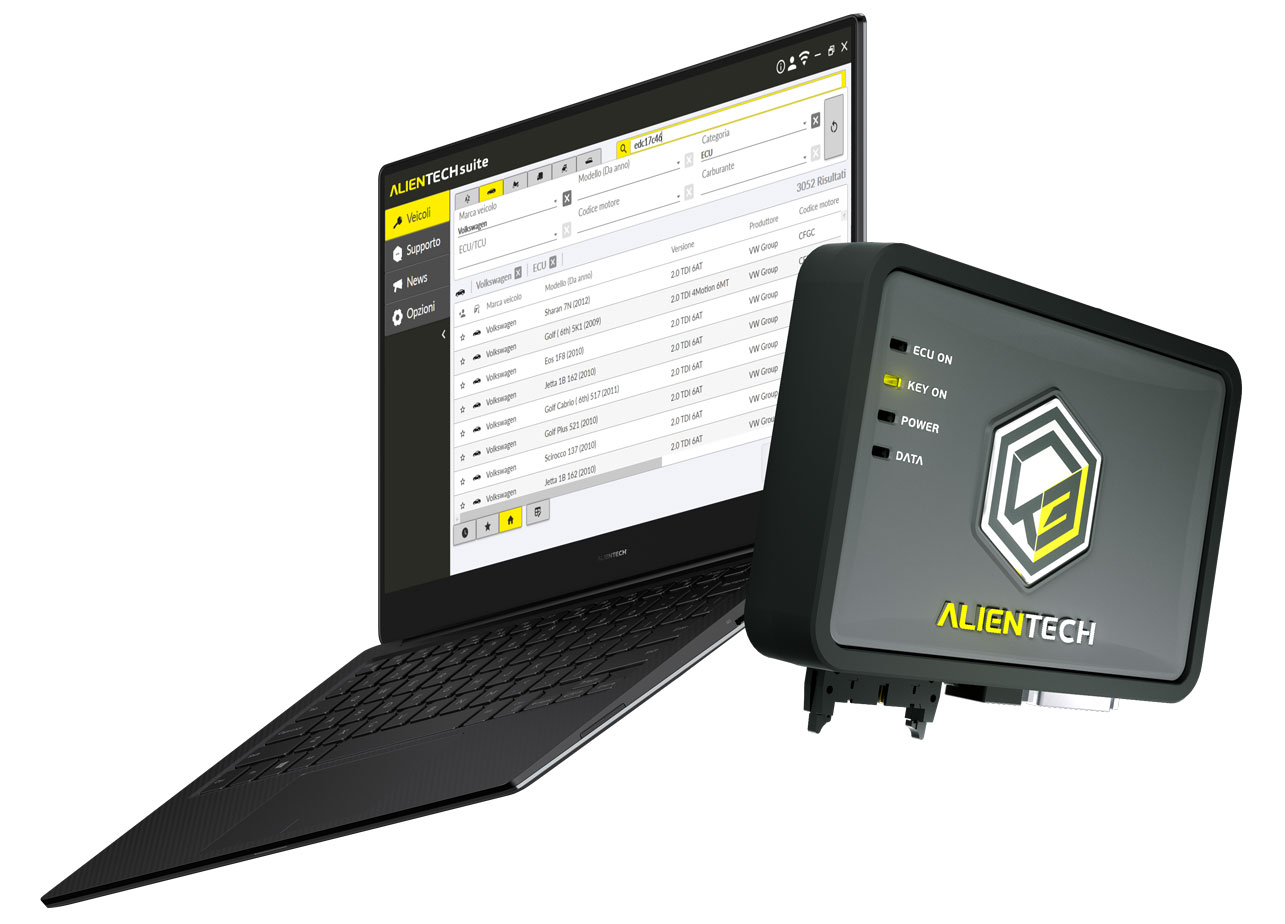 Design and performance, just a click!
Alientech Suite is your best friend in the calibration field.
Looks and function are designed to give you maximum responsiveness, contributing to a practical and intuitive working experience: everything you need is available and in your hands.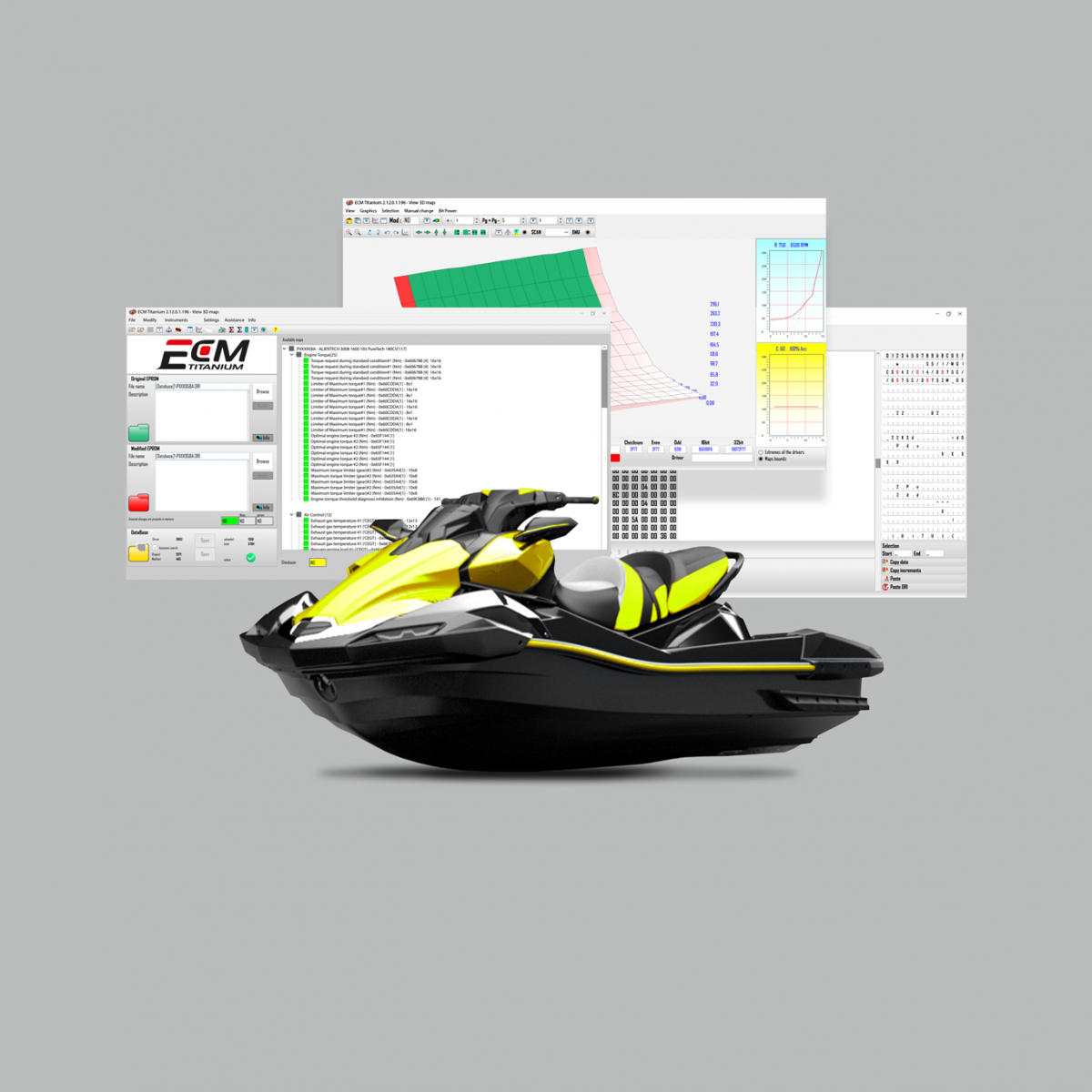 Target performance with ECM Titanium
Decades of experience have made this watercraft one of the ultimate machines for whizzing around the world's coastlines, ideal for everything from small, relaxing trips to the most extreme competitions. In this top of range configuration, the Jetski is already really performing, but thanks to the architecture of the propulsion system, in a few simple moves, it is possible to increase its power, giving it an even more exuberant character.
In fact, performing a recalibration on this small 1.5L with centrifugal compressor is very satisfying, especially if you are looking for extreme performance. With ECM Titanium you have a quick and intuitive solution to meet your customer's demands by managing the recalibration in full autonomy.
Design a new power curve by modifying engine management parameters and discover the potential of this vehicle with ECM Titanium. Be on the technological cutting edge; it is all in your hands.