Remap with KESS3 Toyota Yaris GR equipped with Denso R7F701216 ECU
Thanks to the latest KESS3 upgrade, you can work in BENCH mode on this ECU and enhance performance with the best solution on the market for reliability and efficiency.
Work on the iconic Gazoo Racing brand with this protocol specially developed to ease your work on this third-generation Denso ECU. Performance enhancement on Yaris GR has never been easier and only with KESS3 you can do it without worries. Satisfy your customers with the most complete service ever by opening yourself up to this new business opportunity.
Focus on the new ECU:
This unique solution allows you to make a new performance step forward on these four-wheeled jewels. Simply connect to the control unit and in a few quick clicks you will have the information you need to get the job done. Discover the potential of this vehicle with the KESS3.
Denso GENIII R7F701216
TOYOTA
RD, WR in Bench Mode
| | | | |
| --- | --- | --- | --- |
| Yaris GR | 1.6 12v Turbo 6MT | Petrol | 192 kW |
| Yaris GR | 1.6 12v Turbo 6AT | Petrol | 192 kW |
Speed and reliability: this is what characterizes this unique tool that allows you to work on an ever-growing fleet of vehicles every day. Activate the protocols according to your needs and work with all the vehicles you have at your disposal.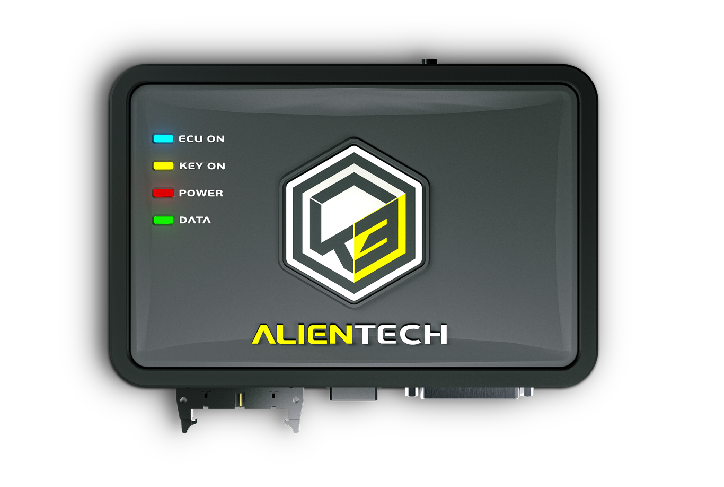 KESS3: the result of 30 years of experience
Quick updates, three different connection modes (OBD – BENCH – BOOT), ease of use and sturdiness for your garage.
All in a single tool designed to work in the present and amaze in the future thanks to the constant updating of functions and protocols to help you in your daily work.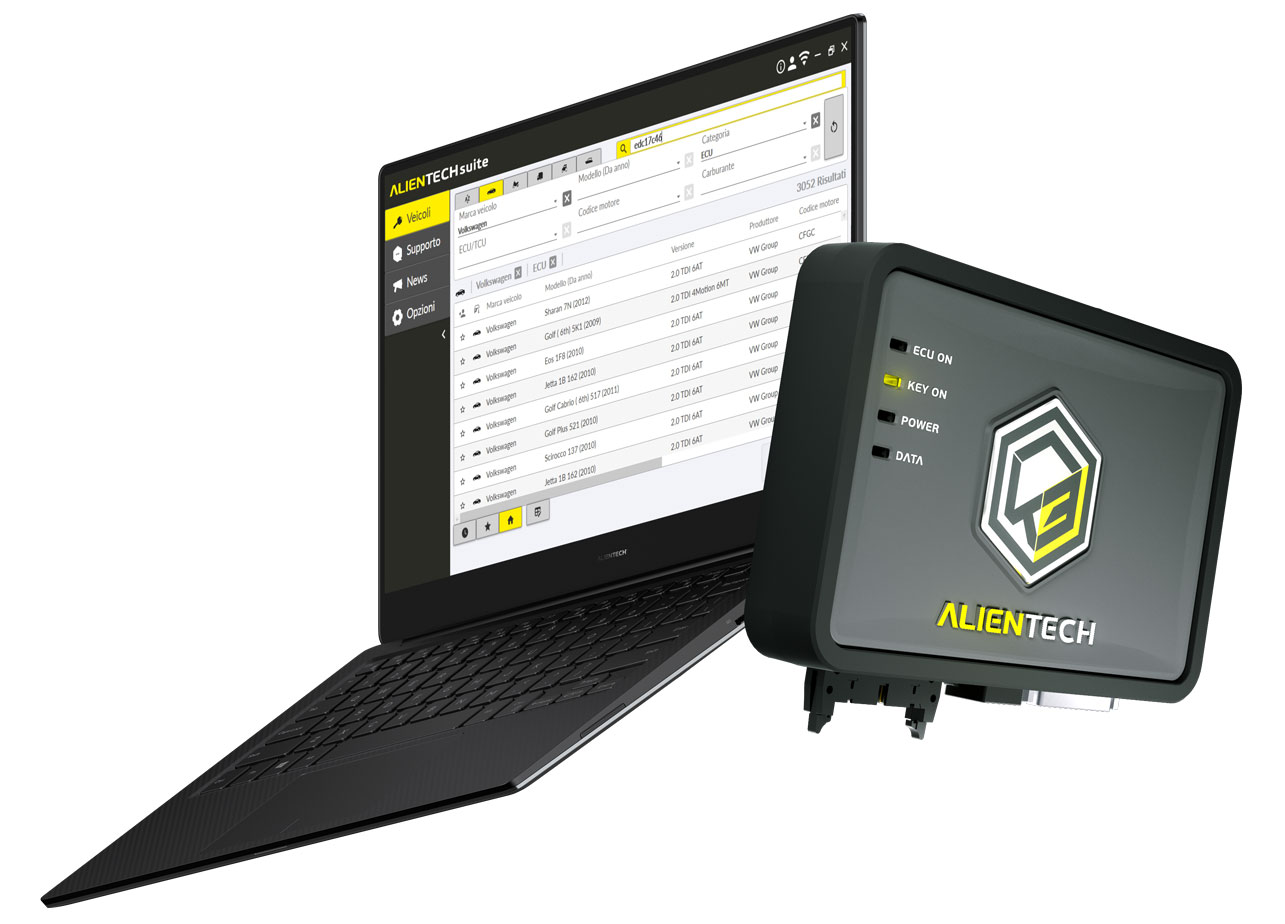 Tuning
Performance enhancement through ECU reprogramming is a constantly growing service. Tuning engine management parameters means enhancing performance and driving pleasure, also with an eye on fuel consumption.
In some cases, it is essential to intervene on ECU calibration, in order to complete the processing after the installation of aftermarket parts, guaranteeing the engine the desired performance.
Alientech has always played a leading role in this sector by offering real and effective solutions for professional programmers.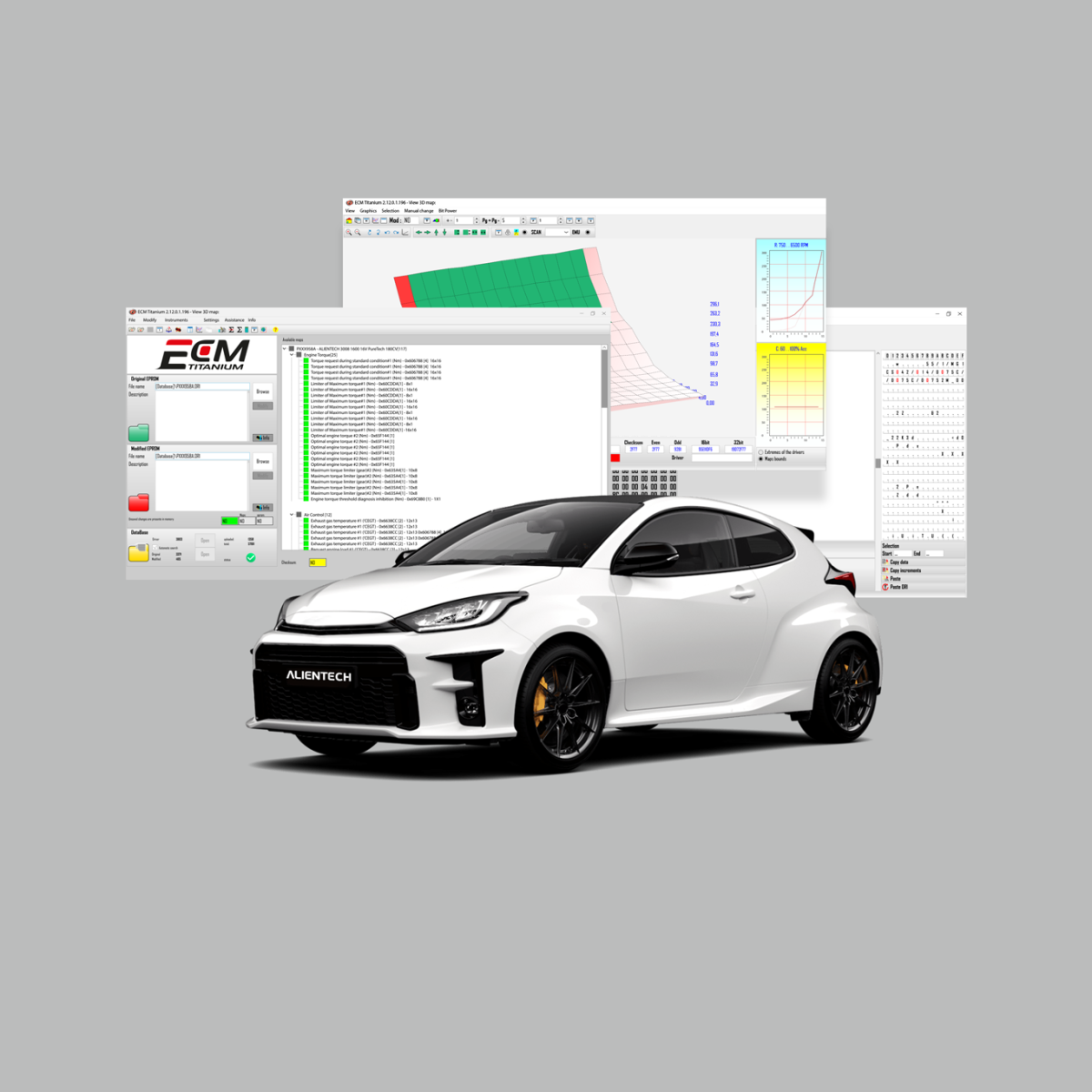 Target performance with ECM Titanium
Since its appearance on the market, ECM Titanium has immediately confirmed its sporty qualities of yesteryear. The little Yaris is a performance phenomenon in this sector, and collectors and enthusiasts have immediately taken it by storm. The 1.6-litre turbo petrol that powers it has a very high potential, despite its cubic capacity, on a par with cars in higher categories. To present it again is almost anachronistic, but for lovers of the genre it is still a daydream.
Recalibration on the Toyota Yaris GR is an almost necessary intervention to make it even more special and customized according to your customers' needs. ECM Titanium 3.0 is the tool that will allow you to adjust engine parameters for the ultimate performance boost while maintaining reliability.
With mechanics aimed exclusively at performance, such as turbochargers on bearings and oversized exhaust valves, the basis is excellent for preparations beyond simple recalibration. With ECM Titanium 3.0 you have what you need to work on Yaris GR, performance is just a click away.