Using the new BENCH and BOOT protocols by KESS3
Work on the available ECUs with just one tool, satisfying your customer's needs.
Work in full reliability with KESS3's bench mode (both BENCH and BOOT), on the Denso 21175-1307/1362 and Denso 21175-0853/0861/0863 ECUs that equip Kawasaki's extreme naked bikes. Become a calibration specialist by customizing the riding style on an ever-growing and continuously updated fleet of motorbikes.
New ECUs supported:
Denso 21175-1307/1362
Denso 21175-0853/1362/0863
Modify engine parameters according to the operating logic of each individual control unit, enhance performance and discover the growing profit opportunities in the two-wheel field.
Denso 21175-1307/1362​
KAWASAKI
RD, WR in Boot Mode
| | | | |
| --- | --- | --- | --- |
| Z | 900 A2 | Petrol | 70 kW |
| Z | 900 | Petrol | 92 kW |
Denso 21175-0853/1362/0863​
KAWASAKI
RD, WR in Bench Mode
| | | | |
| --- | --- | --- | --- |
| Z | 1000 ABS | Petrol | 105 kW |
| Z | 1000 SX ABS | Petrol | 105 kW |
| Z | 1000 SX ABS Tourer | Petrol | 105 kW |
Activate the BENCH and BOOT protocols for working on motorbikes and start remapping right away!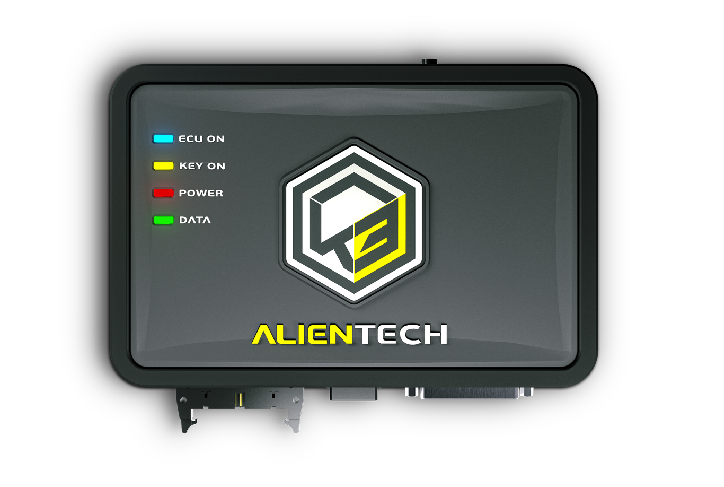 KESS3: the ideal mate for your work
Want to use the full potential of KESS3?
Connect in any of its modes (OBD – BENCH – BOOT), and discover the technology that drives the vehicles coming to your workshop.
Use this information to your advantage and create your business!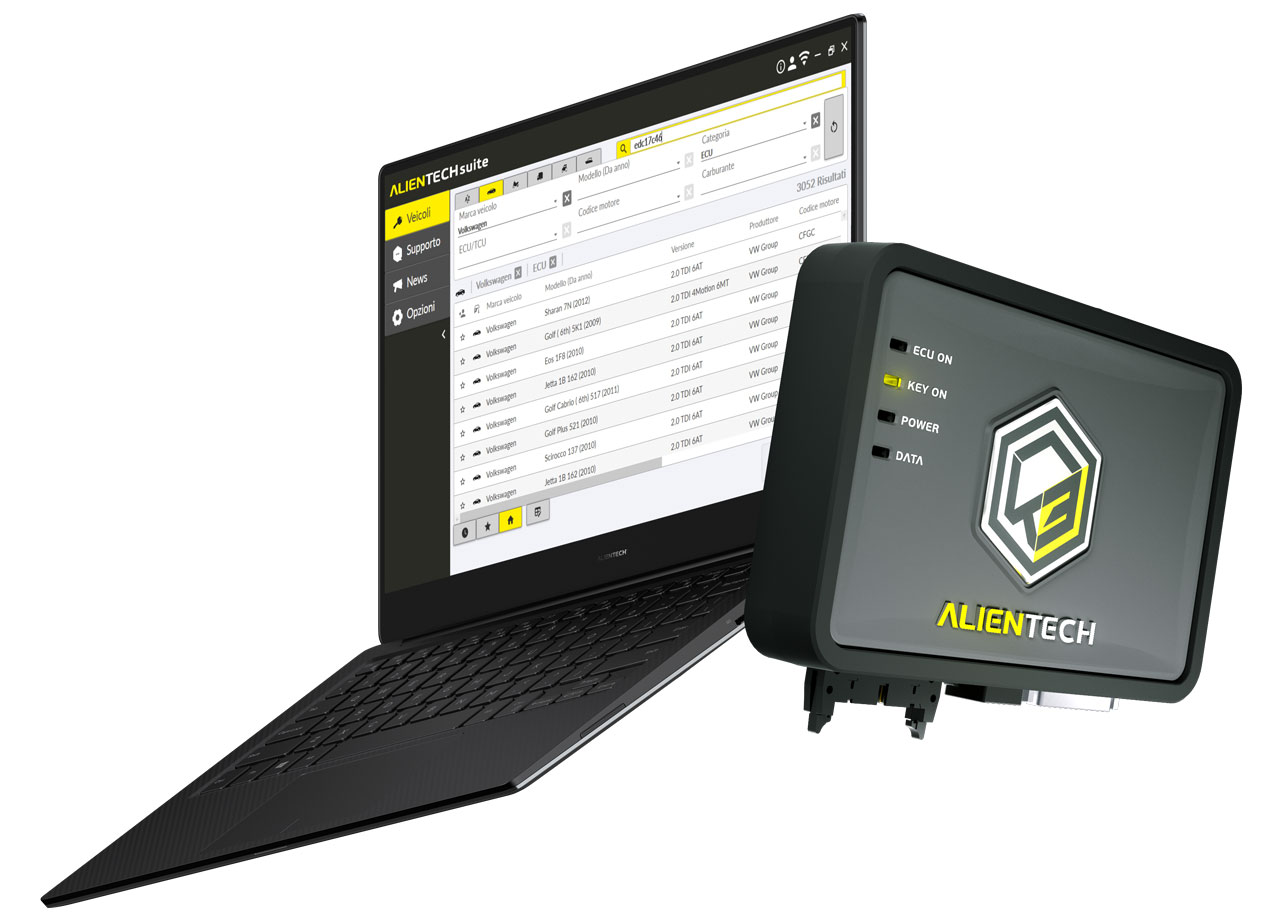 Design and performances, just a click!
Alientech Suite is your right arm in the calibration field.
Looks and functionality are designed to give you maximum responsiveness, providing a practical and intuitive working experience: everything you need is available and in your hands.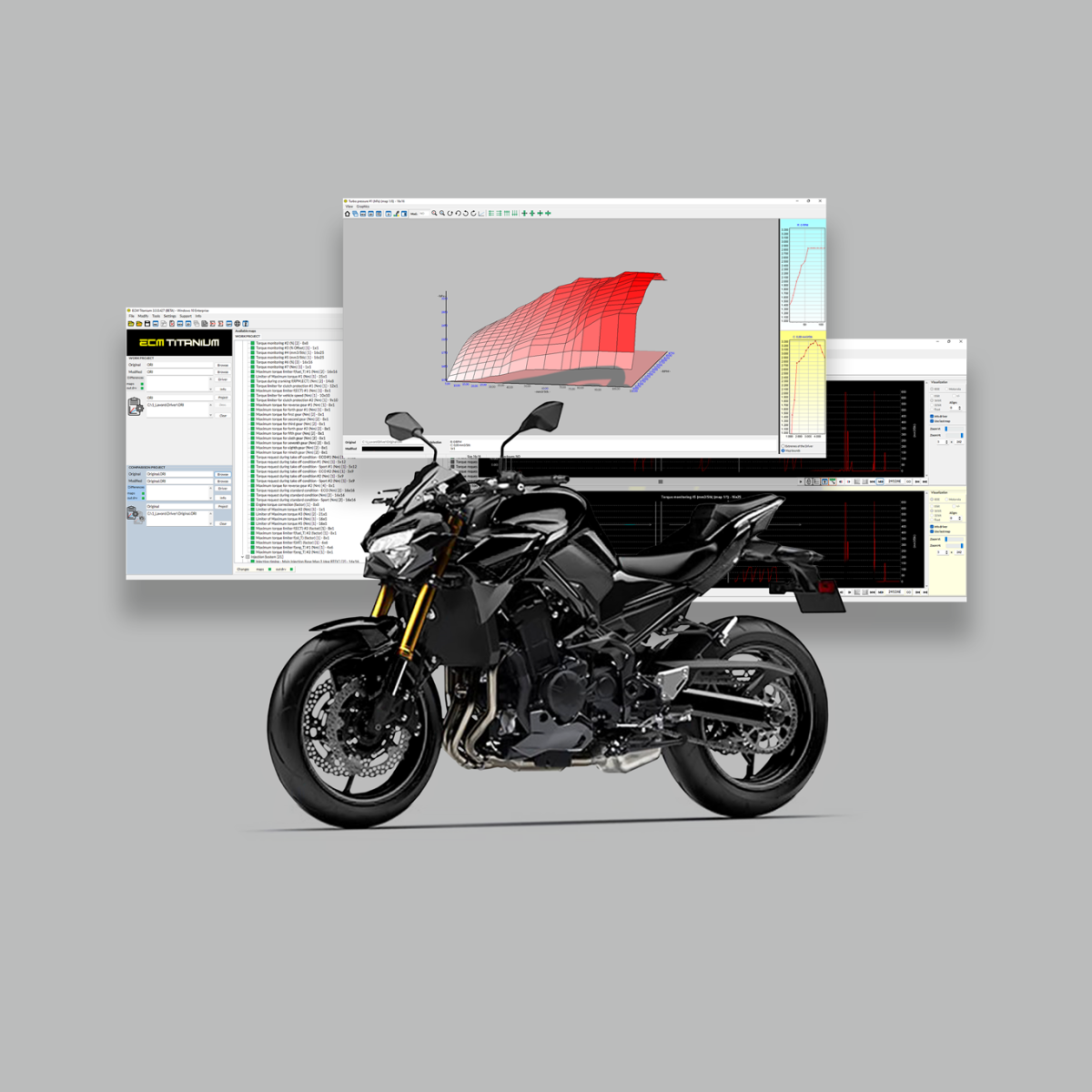 Target performance – Kawasaki Z900
Handling and affordable performance are features that distinguish naked motorbikes from supersport bikes, especially for those of the Japanese brand. And it is precisely because of these peculiarities that they are extremely popular and easily customizable, also in terms of performance.
The sports DNA is not lacking and you can tell right away by the way it dominates the road (or the track) thanks to first-rate standard equipment. The same goes for the 900cc engine that, with a few simple steps, can really make a difference. Whether for the track or for pure fun, ECM Titanium offers you the solution to build complete customer satisfaction.
Working on Denso ECUs for this model is as simple as it is effective. All you have to do is work on the throttle opening and engine revs management parameters, and then fine-tune the intervention by modifying the timing of ignition and injection. With ECM Titanium, you have the new performance step just a click away.