Read and write via OBD the Denso 39199-4ADN0 ECUs installed on Hyundai vans and the Denso 275722-4810 4N14 ECUs on Mitsubishi L200
Work quickly to optimize engine performance and reduce fuel consumption.
Two new OBD protocols allow you to reprogram the Denso 39199-4ADN0 and 275722-4810 4N14 ECUs in the easiest and most reliable way. Work on the 2.5 CRDi engines that equip Hyundai models such as Starex, H1, H300, Huiyi, I800, and on the last generation 2.2 DI-D engine of the iconic Mitsubishi L200.
Focus on ECUs:
Denso 39199-4ADN0
Denso 275722-4810 4N14
Satisfy dozens of new customers and increase your earning opportunities with KESS3. Discover how to take action with a single tool, offering a customized service in all programming areas, including repairs.
Denso 39199-4ADN0
HYUNDAI
RD, WR in OBD
| | | | |
| --- | --- | --- | --- |
| Grand Starex | 2.5 16v CRDi | Diesel | 129 kW |
| H1 | 2.5 16v CRDi | Diesel | 129 kW |
| H300 | 2.5 16v CRDi | Diesel | 129 kW |
| Huiyi | 2.5 16v CRDi | Diesel | 129 kW |
| I800 | 2.5 16v CRDi | Diesel | 129 kW |
| Starex | 2.5 16v CRDi | Diesel | 129 kW |
| Starex Royale | 2.5 16v CRDi | Diesel | 129 kW |
Denso 275722-4810 4N14
MITSUBISHI
RD, WR in OBD
| | | | |
| --- | --- | --- | --- |
| L200 | 2.2 16v DI-D 4WD | Diesel | 110 kW |
Activate the OBD protocols and immediately work on the new supported vehicles, in this particular case also to read and write EEPROM memory.
Tuning
Performance enhancement through ECU reprogramming is a constantly growing service. Tuning engine management parameters means enhancing performance and driving pleasure, also with an eye on fuel consumption.
Alientech has always played a leading role in this sector by offering real and effective solutions for professional programmers.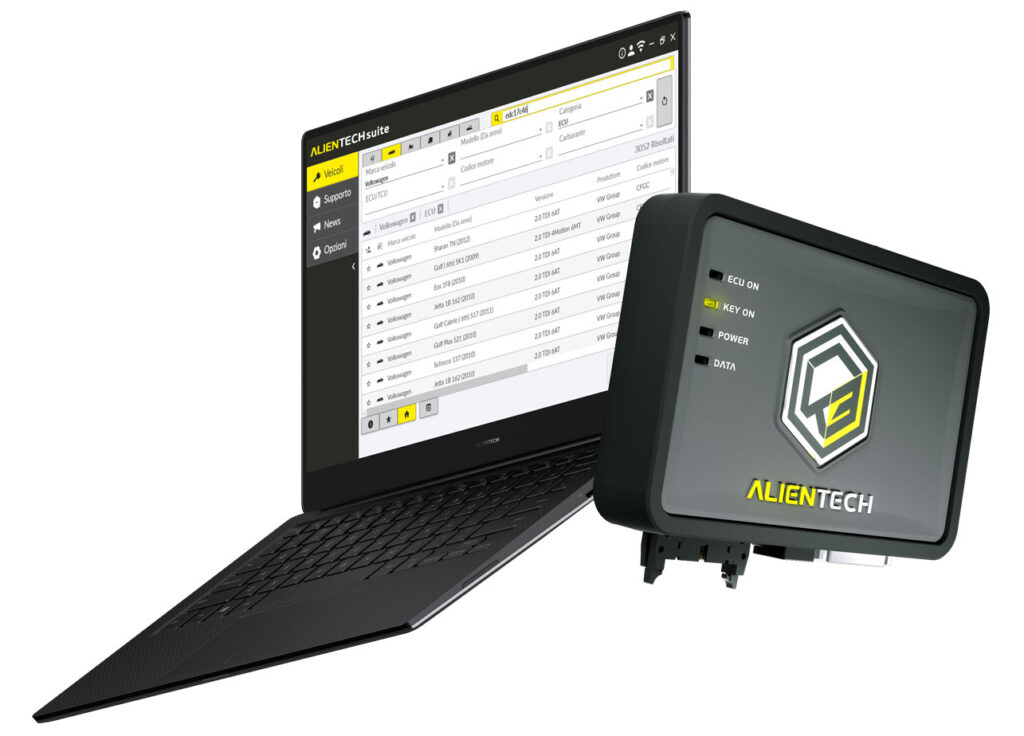 Design and performances, just a click!
Alientech Suite is your right arm in the calibration field.
Looks and functionality are designed to give you maximum responsiveness, providing a practical and intuitive working experience: everything you need is available in your hands.
Enhance your service with ECM Titanium
With ECM Titanium, you can generate effective calibrations by modifying management parameters for any ECU, engine, or automatic transmission. Offer a targeted service tailored to your customers' needs, thanks to a calibration software with features designed to facilitate your intervention.
Especially in this case, where the engines are powered by turbo diesel technology, it's easy to see how, with a few adjustments, you can provide better character and performance. ECM Titanium is the generator of satisfaction for your workshop, both for you and your customer.
Discover the potential of every vehicle that comes into your workshop, leverage the technological advantage at your disposal and provide your best recalibration service with just a few clicks.