Work in BOOT mode on Bosch MED17.8.10.1 and Bosch MED17.8.10 ECUs
Intervene on the latest models of the MG brand for performance optimization, repairs, and fuel consumption reduction.
Thanks to two new protocols now available for KESS3, you can work with open ECU on some MG vehicles like HS, EHS, ZS. Additionally, you can also perform interventions on Geely Boyue, Ford Territory, and Saic MG MG6 using the same connection method. This allows you to expand your customer base by reprogramming dozens of new vehicles that come into your workshop.
Focus on the following ECUs:
Bosch MED17.8.10.1
Bosch MED17.8.10
With KESS3, you offer a complete service from A to Z for any type of vehicle, satisfying the daily demands of your customers. Take advantage of the technological edge you have with the new upgrades: a step forward for your business!
Bosch MED17.8.10.1
FORD
RD, WR in Bench Mode
| | | | |
| --- | --- | --- | --- |
| Territory | 1.5 Ecoboost 145 | Petrol | 105 kW |
MG
RD, WR in Bench Mode
| | | | |
| --- | --- | --- | --- |
| HS | 1.5 GDI | Petrol | 119 kW |
| EHS | 1.5 T-GDI PHEV | Petrol | 214 kW |
SAIC MG
RD, WR in Bench Mode
| | | | |
| --- | --- | --- | --- |
| MG6 | 1.5 TGI | Petrol | 124 kW |
Bosch MED17.8.10
GEELY
RD, WR in Bench Mode
| | | | |
| --- | --- | --- | --- |
| Boyue | 1.8 TD 6AT | Petrol | 135 kW |
MG
RD, WR in Bench Mode
| | | | |
| --- | --- | --- | --- |
| ZS | 1.0 T-GDI | Petrol | 82 kW |
Go beyond the boundaries of programming with the reassurance of having the company that pioneered this profession by your side. Feel secure whether you're in the realm of tuning or repairs.
KESS3: the unique tool for your work
Quick updates, three different connection modes (OBD – BENCH – BOOT), ease of use and sturdiness for your garage.
All in a single tool designed to work in the present and amaze in the future thanks to the constant updating of functions and protocols to help you in your daily work.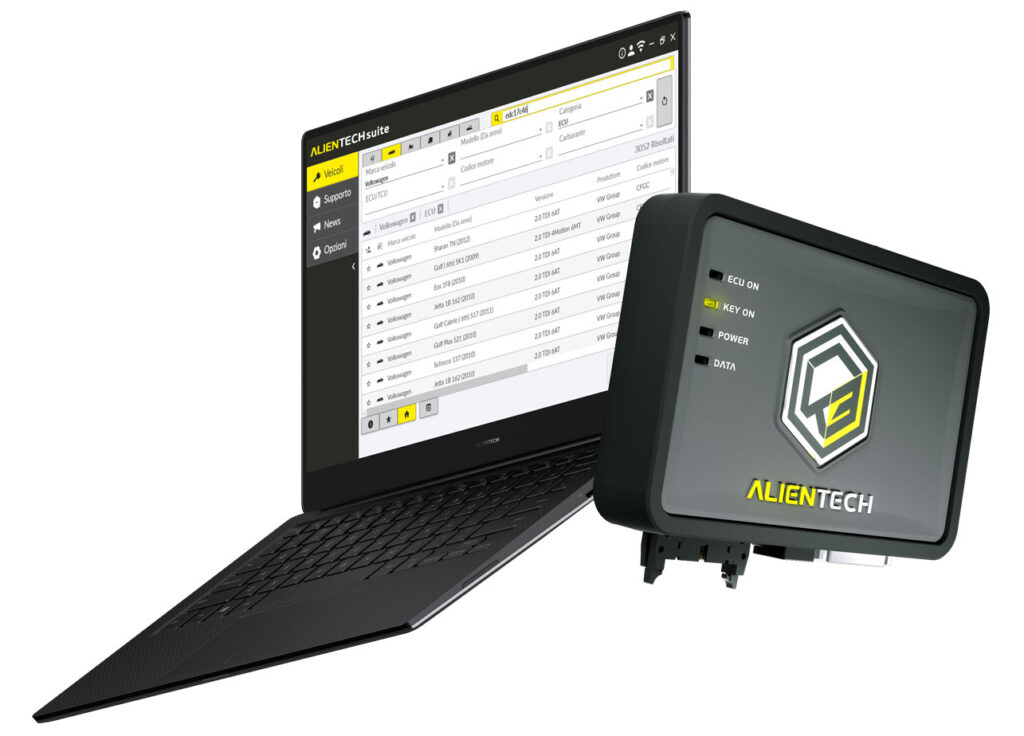 Design and performances, just a click!
Alientech Suite is your right arm in the calibration field.
Looks and functionality are designed to give you maximum responsiveness, providing a practical and intuitive working experience: everything you need is available in your hands.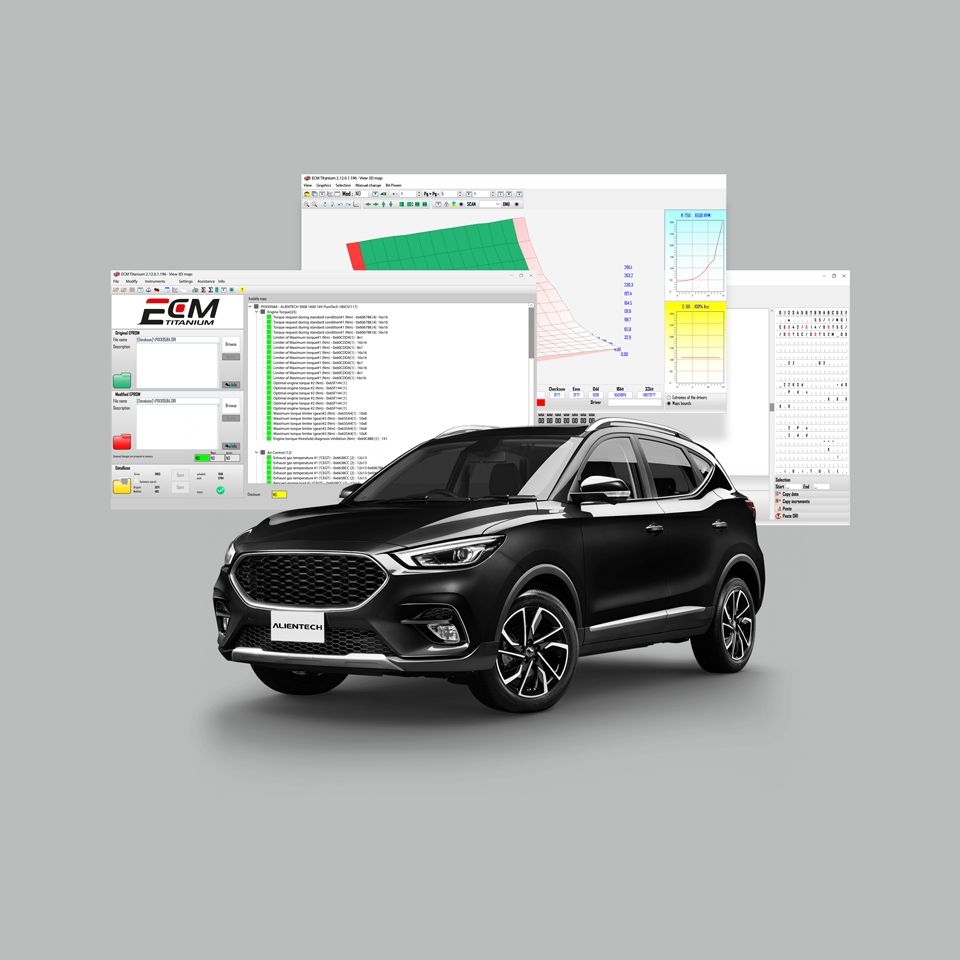 Enhance your service with ECM Titanium
ECM Titanium allows you to generate effective calibrations by modifying the management parameters of any control units, either engine or automatic transmission. This enables you to increase your earnings by providing a service tailored to your customer's needs.
Precise and reliable, ECM Titanium allows you to customize the performance of any type of vehicle, especially those equipped with turbocharged petrol engines, as in this case. With just a few clicks, you can modify the file, reducing fuel consumption and significantly enhancing the car performance.
The result of proper calibration lies in the complete customers' satisfaction. Thanks to ECM Titanium, you can unlock the potential of these vehicles with the simplicity and intuitiveness that have always featured in the software. The power of tuning is in your hands.